RFR0 vous invite à un open LMP900 sur le circuit Le Mans Bugatti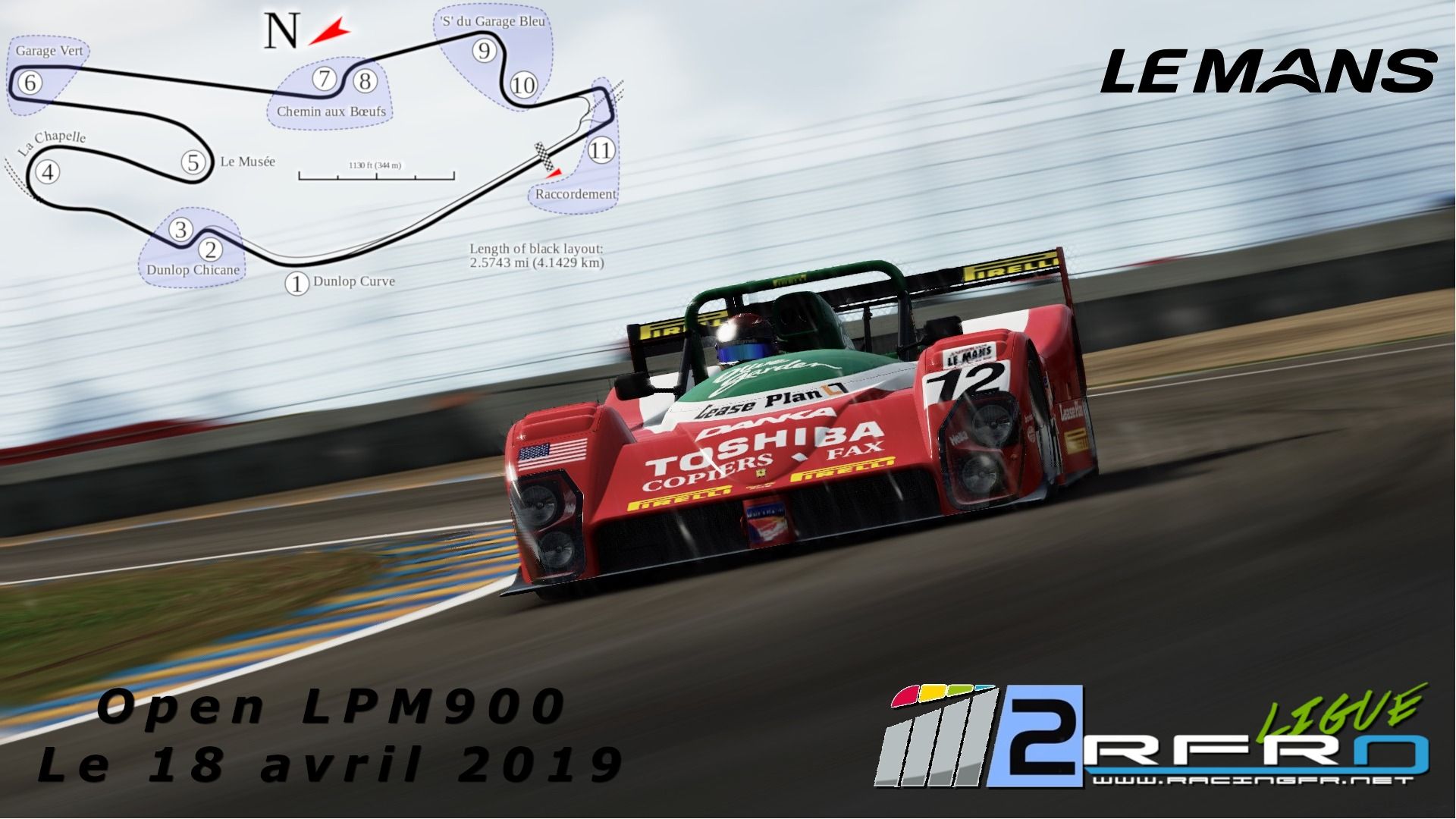 Informations Générales
Date de la course : JEUDI 18 avril 2019 à partir de 20H15
Voitures : LMP900
Circuit : Le Mans Bugatti



Participations
Course réservée : Open Ouvert à tous.
Ne pas oublier de gérer votre participation.
Paramètres du serveur
Nom de la session Hot Laps : RFRO OPEN
Mot de passe Hotlap : RFROpen
Nom de la session course : RFRO OPEN
Mot de passe : donné sur "discord" par oral et écrit juste avant la session
Nombre de places disponibles : 32
Discord

Discord : est OBLIGATOIRE (bouton "appuyer pour parler" paramétré) Ligue RFRO - salon : Open
Discord : télécharger
Discord en mode "invité"
:
; Ligue RFRO -salon : Open
Paramètres de la course
Essais libres : dès l'ouverture du serveur, jusqu'au Mercredi 17 avril 2019
Essais Courses : 20H15 ( durée 40 minutes + 5 minutes de briefing)
Courses : 21H00

Date virtuelle : 18/04/2019
Progression du temps : X1
Le Mans Bugatti

QUALIFICATION COURSE 1

:

Pas de séance de Qualification, les qualifications se feront sur le serveur Hotlaps, ceux qui n'auront pas enregistrer un chrono partirons en fond de grille.

COURSE

:

Durée : 90 min
Heure départ virtuel : 14H00
Météo : légèrement nuageux
Conditions de la course
Aides autorisées : embrayage auto - boite séquentielle - auto allumage
Aides réelles de la voiture : autorisées
Dommages mécaniques : tout
Usure des pneus : X2
Conso essence : normale
Pénalités : toutes
Vitesse temps : X5
Vitesse météo : X1
Arrêt aux stand obligatoire.
Informations générales
La qualité de nos courses est la responsabilité de chacun d'entre nous
Avant de vous engager : lisez ou relisez le règlement de l'association RacingFR-Online et les 11 commandements de la charte RFRO (point 8)
Venez nombreuses et nombreux pour vous détendre, bonne humeur et fair-play obligatoires
Participants
10
The users below confirmed their participation:
The closing date for this event has passed.
Non-Participants
The users below are definitely not participating: